Funicular in Buda Castle District
Travelling by the Buda Hill Funicular is a pleasant and a fairly cheap way to save your legs a hike when you want to get up to the Buda Castle Hill from the river level on Adam Clarke square. Enjoy the ride on a historical cable car!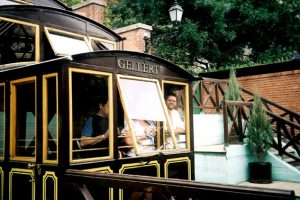 Located at the Buda end of the Chain Bridge, the funny ride on the Funicular takes only a few minutes, and it does provide a unique and beautiful view of Budapest, the River Danube and sights at the top of Castle Hill, such as the Fisherman's Bastion.
Running every 10 minutes up and down the Castle Hill from early morning till late at night, do not be recoiled by the queues.
History of Funicular Budapest
Connecting the banks of River Danube and the Buda Castle, the Funicular (Budavari Siklo in Hungarian) has been in service since 1870.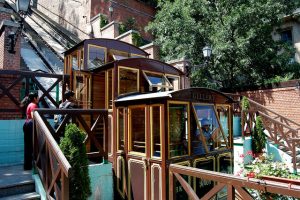 The construction was started by the idea of Odon Szechenyi, son of the statesman Count Istvan Szechenyi. Back then, this was the second funicular railway operating in Europe.
The funicular had been meticulously reconstructed and rebuilt in a vintage style after being completely destroyed in a WWII bombing raid.
The Buda Castle Funicular was admitted to the list of UNESCO World Heritage sites in 1987.
Currently it runs on a 95-meter route of 50 meters elevation and has two tram cars. The Buda Castle Funicular has two stations, the lower station is at the Buda end of the Chain Bridge and the upper station is on Castle Hill, between Royal Palace and Sandor Palace. The upper station of the Funicular is where the Castle Tour & Funicular package descends to the riverbank level to continue the guided tour on the river Danube (and to rest your feet).